Dr. Bernie Siegel – Become a love warrior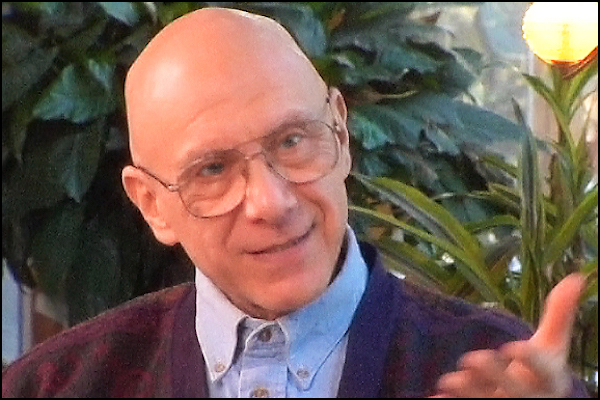 Dr. Siegel, who prefers to be called Bernie, was born in Brooklyn, NY.
For many, Bernie needs no introduction. He has touched many lives all over our planet.
In 1978 he originated Exceptional Cancer Patients, a specific form of individual and group therapy utilizing patients' drawings, dreams, images and feelings. ECaP is based on "carefrontation," a safe, loving therapeutic confrontation, which facilitates personal lifestyle changes, personal empowerment and healing of the individual's life. The physical, spiritual and psychological benefits which followed led to his desire to make everyone aware of his or her healing potential. He realized exceptional behavior is what we are all capable of.
In 1986 his first book, Love. Medicine & Miracles was published. This event redirected his life.
Bernie's realization that we all need help dealing with the difficulties of life, not just the physical ones, led to Bernie writing his fourth book in 1998 Prescriptions for Living.
Bernie has been named one of the top 20 Spiritually Influential Living People on the Planet by the Watkins Review.
For more details go to www.BernieSiegelMD.com.
Bernie, and his wife and coworker Bobbie, live in a suburb of New Haven, Connecticut. They have five children and eight grandchildren. Bernie and Bobbie have co-authored their children, books and articles. Their home with its many children, pets and interests resembled a cross between a family art gallery, museum, zoo and automobile repair shop. It still resembles these things, although the children are trying to improve its appearance in order to avoid embarrassment.
Before I even got to ask Bernie my first question, we received all of these gems:
Bernie encourages you to embarrass your children regularly.
In marriage you are not giving to the other person, you are giving to the relationship. It is 1 + 1 = 3. The third entity is the relationship.
You won't believe what happened when Bernie asked a class of medical students to draw themselves as a doctor.
We all need to be trained to enjoy people.
One of Bernie's sons owned a Subway franchise and Bernie asked to work for him because he loved people. Imagine being asked "How would you introduce yourself to God?" by the guy making your sandwich at Subway.
Become a Love Warrior.
If you want to improve your partnerships and relationships, say "I love you" to your partner everyday for 3 months. At the end of 3 months skip a day and see what you hear from the other person.
Guiding Principle, Quote or Mantra
Focus on being grateful for what you have and what you can do with it.
The Ice Bucket Experiment
Put your hand in a bucket of ice and time how long you can keep it there.
Then refill the bucket. Gather your family and pets around you and put your hand back in the ice.
Watch how much longer you can keep it there. Why?
Because you are surrounded by people who love and care for you. And it changes you and what you are capable of achieving.
It literally changes your chemistry.
Best Partnership Book or Resource
Love, Medicine and Miracles: Lessons Learned about Self-Healing from a Surgeon's Experience with Exceptional Patients
The Science of Mind: The Complete Edition
Interview Links –