Richard & Namaste Moore – "Where's the Love?"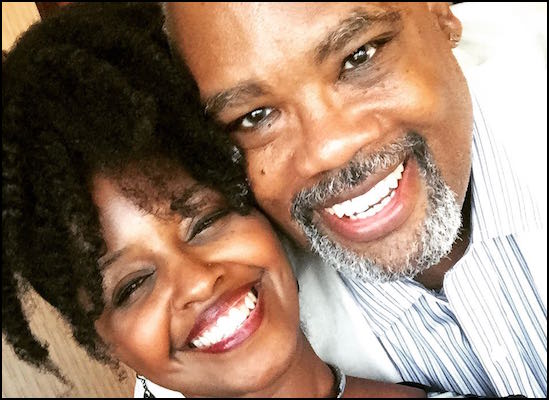 Richard and Namaste are known as the Infinite Couple – they are life and relationship Alchemists who facilitate the transformation of the mundane into the Precious.
Teachers, Public Speakers, Spiritual Conduits and Transmitters they work together, are parents of 8 children in their blended family, and can be found broadcasting live multiple times a week via their periscope channel @richardnamaste.
Guiding Principle, Quote or Mantra
You always have to choose between love and fear.
Always choose love. Ask yourself "Where's the love?"
Is the feeling you are feeling in any moment based on love or based on fear?
Is the decision I am making advocating for love or advocating for fear?
These questions will remind you that you have a choice and whatever feeling you are having does not make that feeling you.
This can provide you more space between how you are feeling in any moment versus where you want to create action from.
You always have a choice and you aren't how you feel.
When You Tripped Up
Richard – With his ex-wife Richard he tripped up. He is pretty easy going and his ex-wife was somewhat more volatile.
People have different ways of feeling like they are loved or heard or appreciated. And she felt appreciated if their intensity level match. So if she was yelling at him she felt appreciated if Richard was yelling back. But Richard had kind of committed himself to not doing that.
But there was one time he chose to match her in the yelling.
Richard looked in the rear view mirror of the car and could see this was not him. And he didn't feel good about himself in that moment.
Ultimately they decided to end the relationship.
Namaste – Her trip up was in how she resolved conflict with a former partner. She was the more volatile and would find herself yelling to be heard because that is what she found she needed to do to feel like she got through to her partner.
She too looked at herself in the mirror during one of these conflicts and did not like what she saw.
Instantly she was aware this was not how she wanted to resolve conflict, and asked herself "how did I get here?"
She wondered why she was continuing to put herself in that situation.
Namaste wanted to be in a relationship where they bring out the best in each other, and this was not it.
The "DUH" moment that changed your partnerships forever
Namaste – One time Namaste told Richard how he reminded her of her former partner.
And Richard said, "What does that have to do with me?" And she thought, "What do you mean, what does this have to do with you? I'm crying. I'm upset…"
Richard then shared with her a story that changed her life forever. You've got to hear this.
It was her "DUH" moment.
Richard – After Richard's previous marriage ended, he resolved to never get married again.
He realized he had a huge monument to his previous relationship that was sitting square in the middle of his current relationship. It was a monument that was all about Richard and his pain and his need to guard against future pain by maintaining past pain.
And this was tying him to his ex-wife for the rest of his life.
His "DUH" was when he realized he could dismantle it because it had nothing to do with Namaste.
And every day since Richard dismantled this monument has been beautiful.
Proudest moment in partnership
One of the proudest moments in partnership for Richard & Namaste was when they both left their corporate jobs and started their business together.
Every time they think about it, is like Christmas morning.
What is the best partnership / relationship advice you have ever received?
H.A.L.T Don't have a serious discussion when you are hungry, angry, lonely or tired.
And it shows up differently for everyone.
You are not at the optimum state when you are any of these four things.
Most people want to have serious discussions when they are in one of these states, but don't do it!
Best Partnership Book or Resource
The Four Agreements: A Practical Guide to Personal Freedom (A Toltec Wisdom Book)
Interview Links –
Richard & Namaste's Facebook Link
Richard & Namaste on Periscope