Linda & Charlie Bloom – Remember to Ask "How Can I Best Love You?"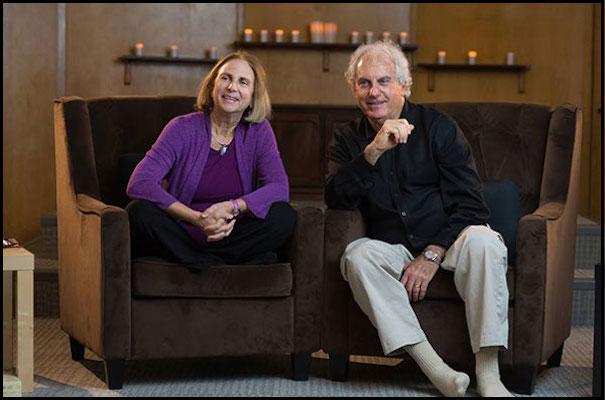 Married since 1972, Linda and Charlie Bloom have been working with groups, individuals, couples and organizations to enhance the quality of their relationships and communication skills since 1975.
They both have Master's degrees in Clinical Social Work and have lectured, led seminars and provided consultation at universities and learning institutes throughout the United States as well as internationally.
Linda and Charlie have written and published three books, Happily Ever After…and 39 Other Myths about Love: Breaking Through to the Relationship of Your Dreams, Secrets of Great Marriages: Real Stories from Real Couples about Lasting Love AND Their best-selling book, 101 Things I Wish I Knew When I Got Married: Simple Lessons to Make Love Last has been translated into several languages and has sold over 100,000 copies worldwide.
Their organization, Bloomwork is dedicated to promoting healthy, fulfilling, and successful relationships for individuals, couples and organizations.
They have served as psychotherapists, marriage counselors, consultants and seminar leaders since 1975. In addition to their academic and professional training, the Blooms' expertise in the field of relationships stems from experience in the crucible of their own committed partnership of over 45 years.
Guiding Principle, Quote or Mantra
Charlie – "This too shall pass." Which is both the good news and the bad news.
Whatever difficulty you are dealing with will pass, and the relationship you are in is also temporary so instead of missing a minute of the precious connection you have, just be open and honest and considerate and vulnerable with your partner.
Remembering this will help to keep things in perspective.
When You Tripped Up
Linda – At one point Charlie had a corporate job that kept him away from home quite a bit when their children were small and she was pretty upset about it.
Charlie loved the job and was learning so much and had a great opportunity to be in service that it was his dream job. But it was really having an impact on the family.
At the time they were both caught in this myth that you have to get it off your chest and express yourself. And as a result they had some humdinger fights during this time.
It was already a difficult time, but not having good conflict management skills made it more so.
They learned that there is a way to tell the truth about what you're feeling and what you're needing and leave out all the manipulations and blame and judgement that leads to so much trouble.
Proudest moment in partnership
Linda – When Charlie resigned from his corporate job and they were healing their relationship that had been on starvation rations for a long time, they went to the beach.
They were in a co-creative mode as they were brainstorming a course right there at the edge of the water.
She gets a smile on her face when she thinks about how in sync they were, how respectful they were of each other's ideas and kept building on each other's ideas.
And this co-creative flow is still a frequent part of their relationship today.
Charlie – When he left his corporate job it was because of the very clear the toll it was taking on their marriage, on the family and on his own soul.
He was also aware he was leaving an environment that had been very pleasurable and he was grieving the sense of purpose he had in this work. This led to a depression that lasted several months.
Like many men, he had tied in a lot of his worth to what he could provide to his family and other people. And for the first time in his adult life he was totally unproductive. He felt like he was a burden to the whole family and to Linda.
One day he talked with Linda about all this and said how sorry he was and that he felt totally useless in that moment. And he really had no idea when or if this would ever end.
And Linda looked in his eyes and said "I'm not going anywhere. I'm never going anywhere. I'm in this with you for the duration and I know you're going to come out of this. And I'm not worried…"
Her comments were like water to a man who was dying of thirst in the desert.
It relieved him of the anxiety he had and the pressure and judgements he was putting on himself for not being more productive.
This was the turning point for them as a couple.
What is the best partnership / relationship advice you have ever received?
Linda – Loosen up your attachment to what you think your marriage has to look like.
Forgive your partner for not living up to your expectations and forgive yourself that you are failing at being the perfect partner.
Charlie – If you choose the path of partnership it requires the ability to give your complete support to your partner's wellbeing and their happiness, but not to neglect yourself. To hold your own wellbeing and truth and sense of purpose as high as you do your commitment to them.
It is not a matter of choosing one or the other.
A happy and healthy relationship requires being skilled and capable of doing both of these things.
Best Partnership Book or Resource
The 5 Love Languages: The Secret to Love that Lasts
Hold Me Tight: Seven Conversations for a Lifetime of Love
Interview Links –
Linda & Charlie's Facebook Link