Follow Your "Yes" Friday – Your "Yes" is Inspiration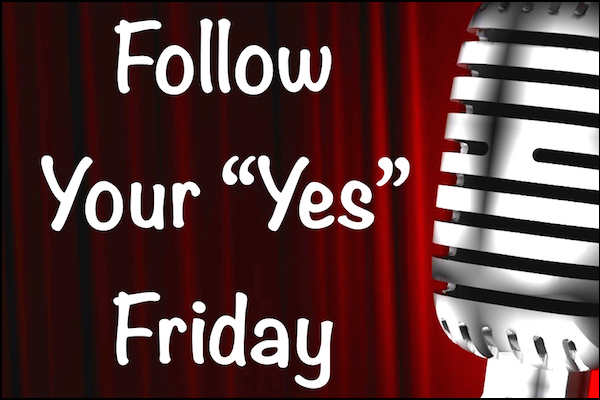 Do you follow your "Yes?"
Following your "Yes" is about you taking a step forward in your partnerships by taking action and applying at least one thing you heard from our guests during their interviews this week.
On today's episode, all of this week's guests have generously provided BONUS MATERIAL, not included in the interviews you listened to earlier this week.
Each one has provided incredible examples of the power of following your "Yes".
Enjoy!
Debbi Dachinger
Not Following –
Debbi was in a relationship years ago where she and her partner, Kent, had to move. And as they were looking for new places to live, her gut was telling her "Get out. Get out. Get out now! You're done."
Debbi did not listen to her better self, her "Yes," that was telling her the relationship was done.
They moved into a beautiful place and immediately things started unraveling. By the end she was sleeping on the sofa. She found another place to live and getting out of their lease was a financial mess.
Debbi learned to trust the doubt that is going on as it is usually something very important to pay attention to.
Following –
Debbi had a corporate job that many people would kill for. But it wasn't what she was built for, so she left it.
She stepped out and followed her "Yes" and it did not take too long before she was making a sustainable living.
Here CPA was very worried for her, but every year when Debbi brought in her financials her CPA understood.
Our "Yes" is inspiration and often all these voices of logic or upbringing or society start demanding that you demonstrate that your "Yes" is going to work out. These are the "what ifs."
Your "Yes" is that strong guidance about what your next step is. Even if you can't see to the end of the line, you are very clear what your next right move is.
Listen to Debbi's full interview here
Connect with Debbi –
FREE gift – How to Do a DYNAMITE Radio Interview
Debbi's Websites –
Camille Sheppard-Parrish
Not Following –
When Camille was an undergrad she started majoring in journalism because she wanted to be a TV talk show host. She also was studying psychology.
But she didn't go down those paths because the paths seems so long. So she went a different direction with her career. She went into Information Technology because it was "quick money." But it did not bring her the joy and happiness that she was craving.
Now she is right back in the same place she was as an undergrad. Working in journalism, TV, psychology etc. But she wasted many years not following her "Yes" and missing out on the joy that she now gets from the work she is doing now.
Following –
When Camille started diving into the self-help world she was challenged by what was her "why." What was she so compelled to do that she would do it for free?
Though it was challenging she followed it. And realized this was the dream she had way back when she was in college.
Following through on this dream now brings her so much joy and happiness.
Listen to Camille's full interview here
Connect with Camille –