Elizabeth Lesser – Strength to Strength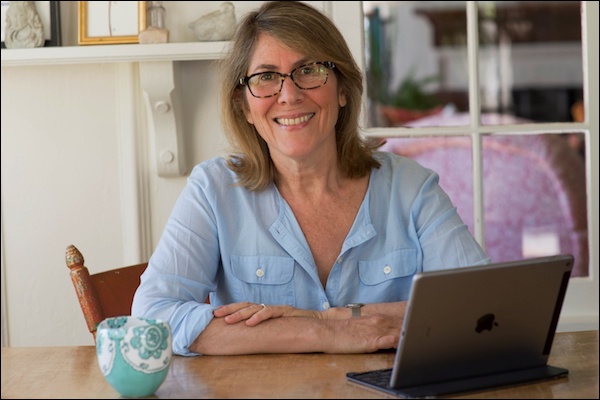 ELIZABETH LESSER is the author of The Seekers Guide, Broken Open: How Difficult Times Can Help Us Grow, and the recently released Marrow: A Love Story.
She is the cofounder of Omega Institute, recognized internationally for its workshops and conferences in health, wellness, spirituality, creativity, and social change. Founded in 1977, the institute welcomes more than 30,000 participants each year to its campus in Rhinebeck, New York.
Prior to her work at Omega, she was a midwife and childbirth educator. She attended Barnard College and San Francisco State University, and lives in New York's Hudson Valley with her family.
Guiding Principle, Quote or Mantra
Elizabeth was the bone marrow transplant match for her sister, Maggie. And even though they were a perfect bone marrow match, they were not a perfect "soul marrow" match. They had some things to clean up in their partnership.
In this process she came up with a mantra Strength to Strength. Give from your strength to their strength.
This mantra has changed all her partnerships.
When You Tripped Up
Elizabeth and her sister Maggie are the middle two of four girls and they had a relationship that was loving but not all that intimate. She had been tripping up in this relationship pretty much her whole life.
These trip ups had calcified over time into the definition of their relationship. And she found she was trapped in a bunch of unexamined stories about her relationship with her sister.
They were aware that during the bone marrow transplant Elizabeth's cells could attack their new home and there was a chance that her body might reject her cells. Either of those things could kill her.
She realized that they had a long history of attacking and rejecting each other.
When they did the work they had to do to put down their old stories and picked up the truth of their unconditional love for each other and this led to an amazing year following the transplant.
This whole episode taught Elizabeth to be braver in stopping stories from building.
The "DUH" moment that changed your partnerships forever
Elizabeth used humor to get her sister Maggie to go to therapy prior to her bone marrow transplant operation.
She sent a cartoon that showed two women talking to each other and one says to the other: "I've never forgiven him for that thing I made up in my head."
Since then, Elizabeth has had so many "DUH" moments by interrupting her default of making up stories in her head about what is going on. It's risky to interrupt story telling, but the payoff is huge.
She calls this being a first responder. This is the person who is willing to take the emotional risk and going a little deeper for vulnerability and intimacy.
Proudest moment in partnership
Elizabeth had her entire family including grandkids at her house for Christmas recently and as she says, is usually a recipe for family joy or family catastrophe or both.
By day 2 she realized she was already going into "crazy mother self." And she was doing all the cooking and all the cleaning etc. Quickly becoming a stressed out mess.
What she realized was that she was making up all these stories in her head about what was going to happen with everyone.
Then her son invited her to stop being the mother hen and let everyone enjoy each other and she did. This came back to her engaging with them from strength to strength.
What is the best partnership / relationship advice you have ever received?
You don't have to be perfect to be my perfect match. We can be perfect for each other without being perfect.
This removes a huge burden off of yourself and your partner.
Best Partnership Book
Marrow: A Love Story
He: Understanding Masculine Psychology
She: Understanding Feminine Psychology
Interview Links –